Hi all!
It's Mental Health Awareness week here in the UK and to celebrate I thought I would mention some mental health books.
Mental Health comes in all shapes and sizes. Everything from schizophrenia to stress can be classified as mental health issues and it tends to be different for everyone which sometimes makes it difficult to talk about. All you need is someone who understands you and experiences the same stuff. That's why books are so great. Books with mental illness give readers a personal insight into the character's mind. It gives them a chance to relate or understand better what someone might be going through.
There are several books I want to read which features different types mental health and to different levels.
The synopsis of all the books are taken straight from GoodReads 😁
If I have gotten something wrong in this post I deeply apologise and please let me know if I have.
---
Books featuring Mental Health Issues
Eliza and Her Monsters by Francesca Zappia
Anxiety.
In the real world, Eliza Mirk is shy, weird, and friendless. Online, she's LadyConstellation, the anonymous creator of the wildly popular webcomic Monstrous Sea. Eliza can't imagine enjoying the real world as much as she loves the online one, and she has no desire to try.
Then Wallace Warland,  Monstrous Sea's biggest fanfiction writer, transfers to her school. Wallace thinks Eliza is just another fan, and as he draws her out of her shell, she begins to wonder if a life offline might be worthwhile.
But when Eliza's secret is accidentally shared with the world, everything she's built—her story, her relationship with Wallace, and even her sanity—begins to fall apart.
I love the idea of this book; the online community, social anxiety, webcomics, fans, etc.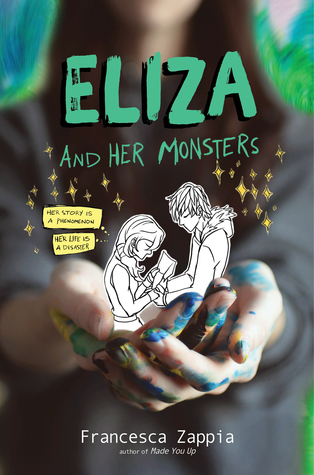 ---
Lighter Than My Shadow by Katie Green
Eating disorder, sexual assault.
Lighter Than My Shadow is a hand-drawn story of struggle and recovery, a trip into the black heart of a taboo illness, an exposure of those who are so weak as to prey on the vulnerable, and an inspiration to anybody who believes in the human power to endure towards happiness.
A comic about mental issues? Hell Yeah!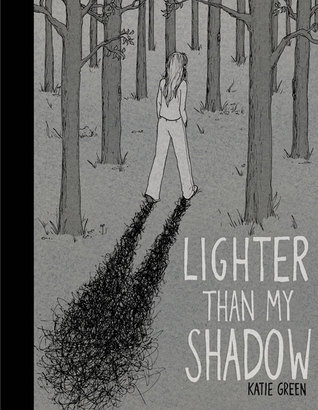 ---
Perks of Being a Wallflower by Stephen Chbosky
PTSD, anxiety.
Charlie is a freshman. And while he's not the biggest geek in the school, he is by no means popular. Shy, introspective, intelligent beyond his years yet socially awkward, he is a wallflower, caught between trying to live his life and trying to run from it. Charlie is attempting to navigate his way through uncharted territory: the world of first dates and mixed tapes, family dramas and new friends; the world of sex, drugs, and The Rocky Horror Picture Show, when all one requires is that perfect song on that perfect drive to feel infinite. But Charlie can't stay on the sideline forever. Standing on the fringes of life offers a unique perspective. But there comes a time to see what it looks like from the dance floor.

The Perks of Being a Wallflower is a deeply affecting coming-of-age story that will spirit you back to those wild and poignant roller-coaster days known as growing up. 
It's a classic! … and I still havent read it! bad ivy.
---
The Bell Jar by Sylvia Platt
Depression
Esther Greenwood is brilliant, beautiful, enormously talented, and successful, but slowly going under—maybe for the last time. In her acclaimed and enduring masterwork, Sylvia Plath brilliantly draws the reader into Esther's breakdown with such intensity that her insanity becomes palpably real, even rational—as accessible an experience as going to the movies. A deep penetration into the darkest and most harrowing corners of the human psyche, The Bell Jar is an extraordinary accomplishment and a haunting American classic.
Again its a classic, a bit bigger classic but a must.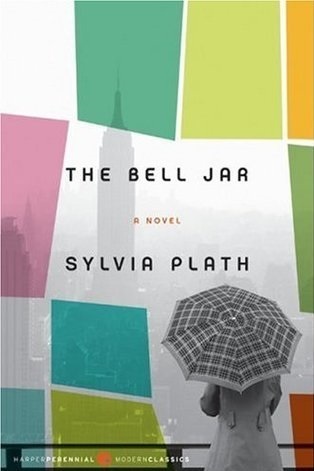 ---
Paperweight by Meg Haston
Eating distorted
Seventeen-year-old Stevie is trapped. In her life. And now in an eating-disorder treatment center on the dusty outskirts of the New Mexico desert.
Life in the center is regimented and intrusive, a nightmare come true. Nurses and therapists watch Stevie at mealtime, accompany her to the bathroom, and challenge her to eat the foods she's worked so hard to avoid.
Her dad has signed her up for sixty days of treatment. But what no one knows is that Stevie doesn't plan to stay that long. There are only twenty-seven days until the anniversary of her brother Josh's death—the death she caused. And if Stevie gets her way, there are only twenty-seven days until she too will end her life
This is, according to Emma on EmmaBooks, a very realistic book about recovering from eating disorder and not recommended to people currently struggling or recently recovered from an eating disorder.
---
Turtles All The Way Down by John Green
OCD
Sixteen-year-old Aza never intended to pursue the mystery of fugitive billionaire Russell Pickett, but there's a hundred-thousand-dollar reward at stake and her Best and Most Fearless Friend, Daisy, is eager to investigate. So together, they navigate the short distance and broad divides that separate them from Russell Pickett's son, Davis.
Aza is trying. She is trying to be a good daughter, a good friend, a good student, and maybe even a good detective, while also living within the ever-tightening spiral of her own thoughts.
In his long-awaited return, John Green, the acclaimed, award-winning author of Looking for Alaska and The Fault in Our Stars, shares Aza's story with shattering, unflinching clarity in this brilliant novel of love, resilience, and the power of lifelong friendship.
I have never read a John Green book… but I really want to!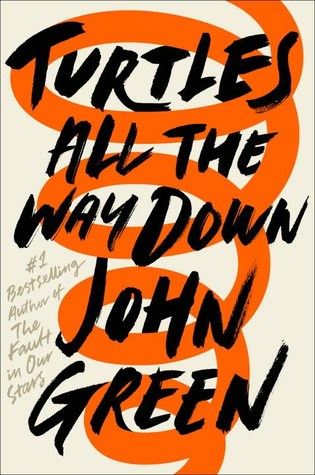 ---
History is All You Left Me by Adam Silvera
OCD, Loss/grief
When Griffin's first love and ex-boyfriend, Theo, dies in a drowning accident, his universe implodes. Even though Theo had moved to California for college and started seeing Jackson, Griffin never doubted Theo would come back to him when the time was right. But now, the future he's been imagining for himself has gone far off course.
To make things worse, the only person who truly understands his heartache is Jackson. But no matter how much they open up to each other, Griffin's downward spiral continues. He's losing himself in his obsessive compulsions and destructive choices, and the secrets he's been keeping are tearing him apart.
If Griffin is ever to rebuild his future, he must first confront his history, every last heartbreaking piece in the puzzle of his life.
I have "They Both Die In The End" by the same author, but I believe its a bit emotional for me so I want to start reading Adam Silvera with this one instead.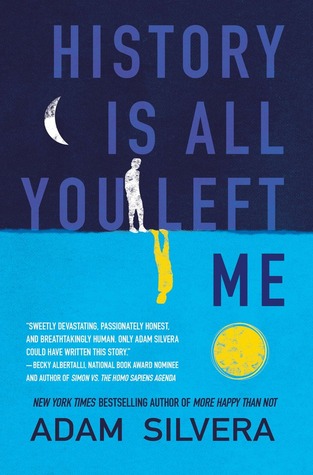 ---
Brave Girl Eating: A Family's Struggle With Anorexia by Harriet Brown
Eating disorder
In Brave Girl Eating, the chronicle of a family's struggle with anorexia nervosa, journalist, professor, and author Harriet Brown recounts in mesmerizing and horrifying detail her daughter Kitty's journey from near-starvation to renewed health. Brave Girl Eating is an intimate, shocking, compelling, and ultimately uplifting look at the ravages of a mental illness that affects more than 18 million Americans.
This has been on my shelf for a year now and I really want to read it.
---
Hyperbole and a Half: Unfortunate Situations, Flawed Coping Mechanisms, Mayhem, and Other Things That Happened by Allie Brosh
ADHD
This is a book I wrote. Because I wrote it, I had to figure out what to put on the back cover to explain what it is. I tried to write a long, third-person summary that would imply how great the book is and also sound vaguely authoritative–like maybe someone who isn't me wrote it–but I soon discovered that I'm not sneaky enough to pull it off convincingly. So I decided to just make a list of things that are in the book:
Pictures
Words
Stories about things that happened to me
Stories about things that happened to other people because of me
Eight billion dollars*
Stories about dogs
The secret to eternal happiness*
*These are lies. Perhaps I have underestimated my sneakiness!
I really enjoy Allie Brosh's blog and other works so this will be great too, I'm sure.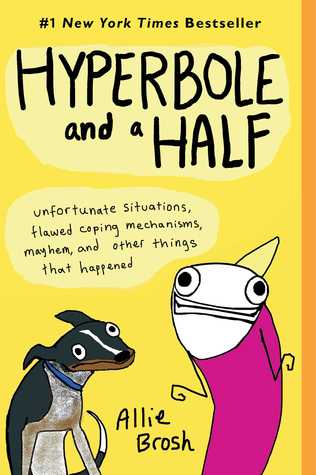 ---
It's Kind of a Funny Story by Ned Vizzini
Anxiety
Ambitious New York City teenager Craig Gilner is determined to succeed at life – which means getting into the right high school to get into the right job. But once Craig aces his way into Manhattan's Executive Pre-Professional High School, the pressure becomes unbearable. He stops eating and sleeping until, one night, he nearly kills himself.
Craig's suicidal episode gets him checked into a mental hospital, where his new neighbours include a transsexual sex addict, a girl who has scarred her own face with scissors, and the self-elected President Armelio. There, Craig is finally able to confront the sources of his anxiety.
Ned Vizzini, who himself spent time in a psychiatric hospital, has created a remarkably moving tale about the sometimes unexpected road to happiness.
---
Made You Up by Francesca Zappia
Schizophrenia
Alex fights a daily battle to figure out the difference between reality and delusion. Armed with a take-no-prisoners attitude, her camera, a Magic 8-Ball, and her only ally (her little sister), Alex wages a war against her schizophrenia, determined to stay sane long enough to get into college. She's pretty optimistic about her chances until classes begin, and she runs into Miles. Didn't she imagine him? Before she knows it, Alex is making friends, going to parties, falling in love, and experiencing all the usual rites of passage for teenagers. But Alex is used to being crazy. She's not prepared for normal.
Funny, provoking, and ultimately moving, this debut novel featuring the quintessential unreliable narrator will have readers turning the pages and trying to figure out what is real and what is made up
I have two books on this list by Francesca Zappia (love that surname!).
---
That's all for now!
How are you celebrating Mental HealtAwarenessss Week?
Have you read any of these books? What did you think? Let me know