This is my fourth and last readathon for a while. I think the next one I'll do is Tome Topple (no known date) as I now only have big books left on my shelves, not a single small book left!
I will post a July wrapup with all the readathons I've done in July and the books I've read in between (not that many).
7in7 is a readathon where the main goal is to read 7 things in 7 days. You can find their Twitter account here and I did my TBR and reading plan found here.
---
Readathon Facts
DATES: 23rd July to 29th July
MAIN CHALLENGES: read 7 things in 7 days
READING CHALLENGES: 6 additional challenges
---
Books Read
Binti by Nnedi Okorafor
Reading challenge: None
Pages: 96 pages
Opinion: This was fun! I really enjoyed it. It goes from small-town dessert to big ass galactic war tendencies. And in the middle of it all is Binti with her magical maths powers. She was awesome and human, real to the core. Loved it and definitely finishing the series.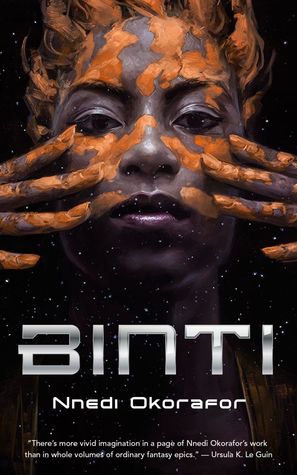 Saga Volume 1 by Brian K Vaughan and Fiona Staples
Reading Challenge: None
Pages: 160 pages
Opinion: I'm not sure what I was expecting from this, I'm still fairly new to graphic novels. It was different than I thought but in a positive way. It was very entertaining and funny, and very random. 
Incidents in the Life of a Slave Girl by Harriet Ann Jacobs
Reading challenges: Read a book that starts with your first initial.
Pages: 164 pages
Opinion: Very good! This was a true diary of a slave girl throughout her life until her freedom. There is a lot of brutal stuff in here but she tries to keep into a minimum as she does not like to think about it. This entire book reflects what I was taught in school about slavery. There is nothing in here that surprised me. It was a brutal time and something we should never forget. There are several phases in here that I felt was still relevant, I had to check myself several times about the publication date (1861) because it felt too relevant. If you haven't read this, read it!!
Nissedreperen by Sigbjorn Mostue
Reading challenge: A book set in your hometown/country.
Pages: 302 pages
Opinion: these books are very entertaining, funny and easy o read. It's middle-grade adventure where the main characters need to help out the elves, trolls, and nisser (gnomes) on the "other side", a shadow world in our world where all creatures are real and visible. They always get into trouble of the unexpected kind and the story never goes the way I expect it to go which again makes it very entertaining. There is one book left in this series and I'm definitely reading it!

Milk and Honey by Rupi Kaur
Reading challenge: None
Pages: 204 pages
Opinion: I have never really read poetry and didn't know what to expect, but after the first few pages I was loving it. It's very feministic and brutally honest. Its divided into 4 parts; hurting, loving, leaving and healing. My favourite was healing. Highly recommend!
Clockwork Orange by Anthony Burgess
Reading challenge: Read a book outside your comfort zone
Pages: 141 pages
Opinion: This was not entirely what I expected. The ultra-violence was the reason I put this outside my comfort zone, but the language in this book gives you a distance that would otherwise not be there. Also, his love for violence makes it less bad. But in the end, I didn't see the point of this story. I wasn't really that impressed about this book. I didn't care too much about it really. But I've read it now. I can tick it off my list.
Revenge of Seven #5 by Pittacus Lore
Reading challenge: Read a yellow book
Pages: 371 pages
Opinion: Here we go. The end is near. It's coming close to an invasion now. It's been a while since I read the previous books but it didn't take long before I was back into it. I'm really enjoying this series and I'm planning on finishing the last two books soonish (preferable next month). These books are very easy to like and enjoy. 
---
Stats
A total pages of 1438 pages.
Favourite read: mixed between Incidents in the Life of a Slave Girl and Nissedreperen.
Books read: 7
Yellow book: Revenge of Seven
Read a book outside: was raining for the first time in a month this weekend, which was lovely but I didn't manage to read outside…
Make a drink or food inspired by a bok: didn't do. Technically I could just have a glass of milk based on A Clockwork Orange, but I didn't.
Book starting on your first initial: Incidents in the Life of a Slave Girl
Book outside your comfort zone: A Clockwork Orange
Book set in your hometown or country: Nissedreperen – even though its fantasy it takes place in my home country in a fantasy town.
---
Did anyone else do the 7in7 readathon? How did you do?
Have any of you done any readathons so far this year? How did you do? Did you enjoy it?